Battle Descriptions
EACH PAGE BELOW CONTAINS battle descriptions of all the major and most important engagements of the war of 1808-09. There are maps of the battlefields and OB's where such are available. There are also names of the commanders and dates for all battles. "R", means Russian commander and "S" referrs to Swedish commander. Is that logical, or what?





---
Interactive map

This map displays the most important engagements of the war of 1808-09. Click on the names of the battles on the map to read more about these engagements.Work is proceeding, and soon all descriptions will be done with proper maps of the engagements as well as OB's. Please check out the map of modern Finland with the positions of the battlegrounds as well. This will help you pin-point the positions on the map, if you are unsure.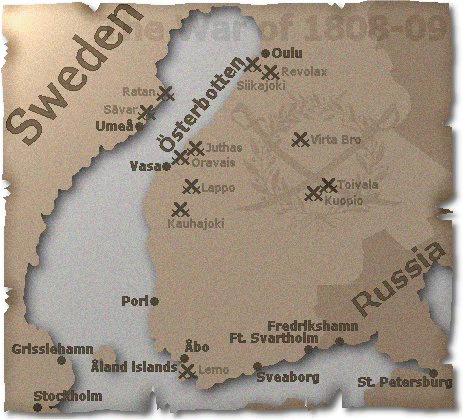 The battles in chronological order. The major decisive battles are marked as "battles", as well as bold writing, while the smaller actions and skirmishes are marked as "actions". Naval actions and raids are also marked properly.


The Russian Attack

The action of Pyhäjoki, April 16 1808
The battle of Siikajoki, April 18 1808
The action of Revolax, April 27 1808
The action of Pulkkila, May 2 1808

The Summer Campaign of 1808

The action of Lemo, June 19-20 1808
The action of Nykarleby, June 24 1808
The action of Vasa, June 25-26 1808
The seabattle of Rimito Kramp, June 30 1808
The action of Kokonsaari, July 11 1808
The battle of Lappo, July 14 1808
The seabattle of Sandöström, August 2-3 1808
The action of Kauhajoki, August 10 1808
The action of Alavo, August 17 1808
The seabattle of Grönviksund, August 30 1808
The actions of Ruona and Salmi, Aug 31-Sept 2 1808

The Swedish Retreat

The action of Juthas, September 13 1808
The battle of Oravais, September 14 1808
The seabattle of Palva Sund, September 18 1808
The battle of Virta Bro, October 27 1808

The Campaign in Northern Sweden 1809

The action of Hörnefors, July 5 1809
The battle of Sävar, August 19 1809
The action of Ratan, August 20 1809



---

Orders of Battle

A collection of orders of Battle for the armies, garrisons and specific battles of the war is found right here.







Back home
© Göran Frilund 2000-03, All Rights Reserved.
If you've surfed onto this page from outside and there is no menu on the left,
CLICK HERE for the full Website.