The battle of Siikajoki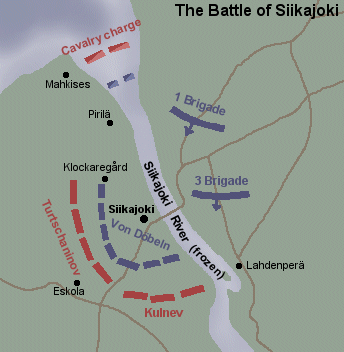 April 18 1808, R=Jacov Petrovitj Kulnev, S=Karl Johan Adlercreutz.

The Swedish commander in chief, Wilhelm Mauritz Klingspor, did not enjoy any popularity neither in the army nor among the civilian population because of his retreat north during the first stages of the war. Russian troops soon had all of southern Finland occupied and their armies were continually following Klingspor and his retreating army. Klingspor only acted upon the official plan of war though - to retreat north and there await reinforcements from Sweden. At Siikajoki (and later also Revolax), just south of Oulu, the first Swedish actions to stop the Russian advance were to come.

While Georg Carl von Döbeln gave the Russian troops hard resistance on the southern side of the river, Adlercreutz was able to come to his aid and turn the battle into victory by going straight into counter offensive. The most interesting detail from the battle of Siikajoki has to be the cavalry skirmish that was being fought to the north though. The Russian cavalry, including the Grodno Hussar Regiment along with Cossacks (probably of the Don) went to attack on the frozen river.

Although the Swedish had won the day, Klingspor continued the retreat north.





Back to Battles
© Göran Frilund 2000-03, All Rights Reserved.
If you've surfed onto this page from outside and there is no menu on the left,
CLICK HERE for the full Website.