The action at Hörnefors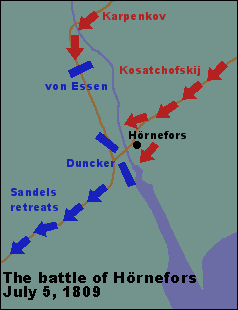 July 5 1809, R=Ilja Ivanovitj Alexejeff S=Johan August Sandels

As the war dragged on into Sweden, the Savolax Brigade camped at Hörnefors after the evacuation of Skellefteå. To celebrate the coronation of the new king, Karl XIII, Sandels arranged a dinner for all his officers at the mansion of Hörnefors. At the same time Russian troops led by Alexejeff advanced on the Swedish positions on two major columns, under Kosatchoffskij and Karpenkov.

The battle was soon raging around the bridge as Sandels and his officers fled over it. The Swedish troops retreated from the area as Duncker and his boys arranged the rear guard. Duncker, still being sore from a previous incident when Sandels had called him a coward, gave proof of rather childish anger. The rear guard was cut off from the main Swedish body and soon saw themselves surrounded. Duncker and his troops defended themselves to the last, Duncker himself being mortally wounded in the combat. The battle raged on into the night.





Back to Battles
© Göran Frilund 2000-03, All Rights Reserved.
If you've surfed onto this page from outside and there is no menu on the left,
CLICK HERE for the full Website.