The action at Nykarleby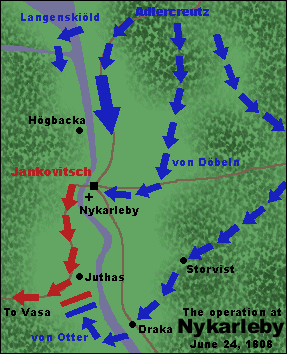 June 24 1808, R=Jankovitsch S=Karl Johan Adlercreutz.

Continuing his Summer offensive, Adlercreutz found a splendid opportunity to surround the Russian main army in the town of Nykarleby. But as the Swedish offensive went forth on midsummer-eve (a major Scandinavian festivity), the Russian army had already evacuated the town and withdrawn south to Vasa, where another Swedish force, under Bergenstråhle, actually came ashore at the same time.

Adlercreutz was left to fight the minor Russian rear guards under Jankovitsch. But as the Swedish approached Nykarleby, Jankovitsch retreated over the bridge, burning it in the process. On the road south to Vasa, he encountered a smaller Swedish detachement under von Otter and some fighting was done. While the Russian troops retreated, the Swedish army was left to celebrate midsummer in Nykarleby. The citizens were not hesitant to provide the army with strong liquor.

The legend has it, that von Döbeln, who was marching at the head of the Björneborg regiment, got so mad when he saw that the Russians were retreating after having torched the bridge, and that the plan to surprise and surround them had failed, that he tried to run after them, out in the river, with his entire regiment loyally following him. He is then supposed to have been near of drowning and some sturdy soldiers had to pull him away from the water! Legend indeed, but it makes a splendid anecdote to the relatively unbloody engagement of Nykarleby.

The Swedish may have won a minor victory, but the festivities in Nykarleby dragged out on time, delaying the march south. Bergenstråhle's troops were later defeated at Vasa.





Back to Battles
© Göran Frilund 2000-03, All Rights Reserved.
If you've surfed onto this page from outside and there is no menu on the left,
CLICK HERE for the full Website.