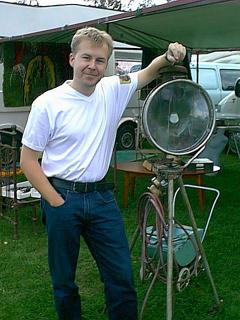 On August 17 2001 we visited the "Juthbacka marknad", a giant junksale here in Finland. Here we have found a Tilley searchlight for propane gas. We didn't buy it, as it didn't use kerosene...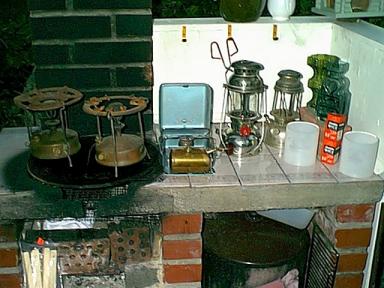 But here is the stuff we bought instead. A couple of kerosene stoves, one Primus nr 107 that has a silent burner, and one Primus nr 1 with a SVEA pot ring. One Optimus 111 stove, that worked perfectly at once. One Optimus 200 nickel plated lantern, one Petromax 900 nickel plated lantern, 2 Primus frosted glass (for propane lanterns, but same size as Petromax 828 or 829), a couple of Aladdin wicks, and a couple of vases to Tiinas collection.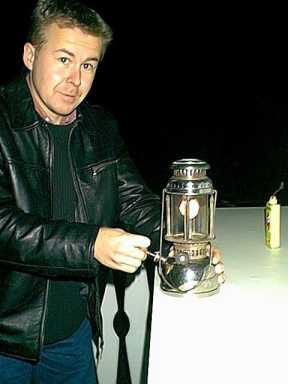 And here Per-Henrik is pumping up the Petromax 900 for the first time. This one should be the smallest lantern from Petromax, only 100 cp. It is slightly smaller than the Petromax 830.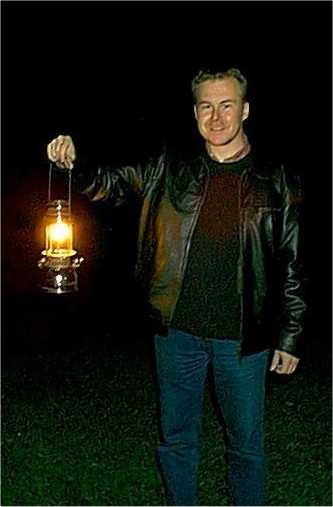 And it is working very fine. The light is not too bright, so it doesn't need a shade. We have now used it for several hours inside also, and it really is a very nice lantern.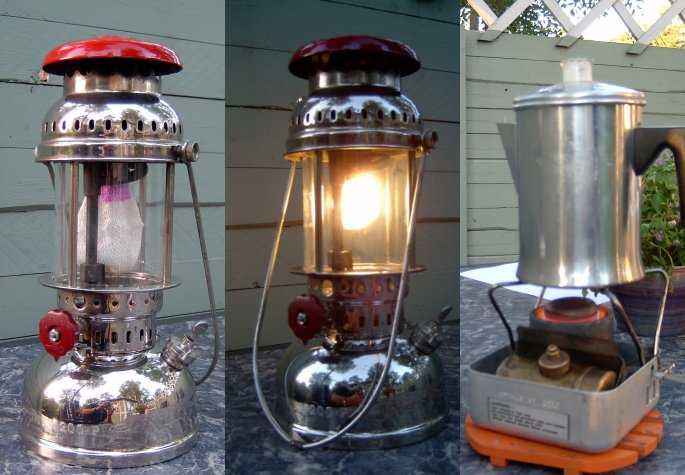 Here is a picture of an Optimus 200 with red top, when we started it up the first time. After this we celebrated with coffee mad in a perculator on an Optimus 199 multi fuel stove.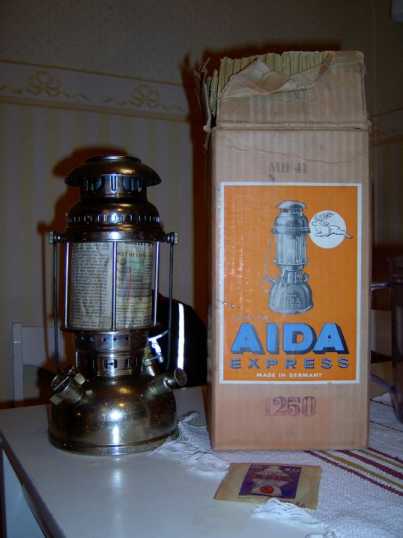 This Aida 1250 we got from Bart Meijer in Holland, and we have now cleaned it up and put on a new mantle, but so far (March 2007), we have not tested it.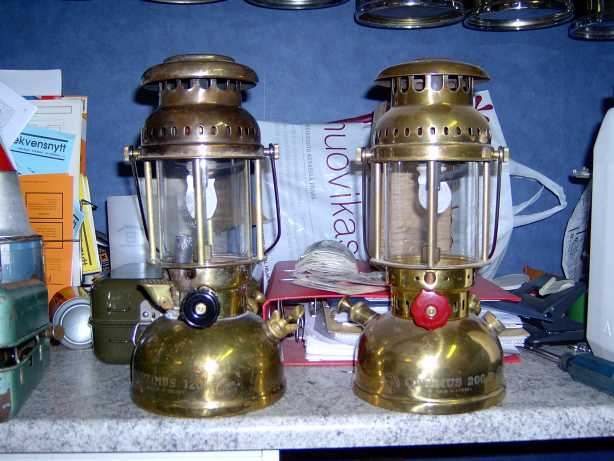 Here is the Optimus 1200 and Optimus 200P side by side so that you get an idea of how identical they are. The Optimus 1200 has a pre-heater torch when the 200 model only has a spirit bowl for pre-heating.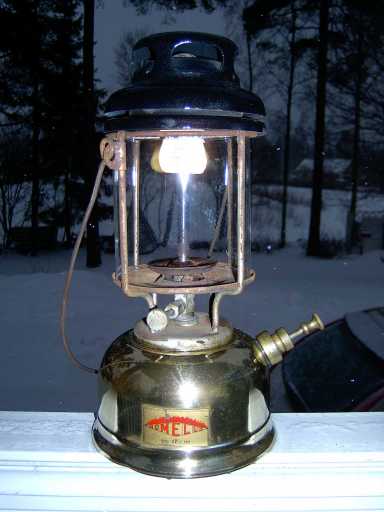 Here we test the Homelux 300 for the first time. Some washers was bad and we had to pump it up all the time, but we have now put on new washers and now it is working perfectly.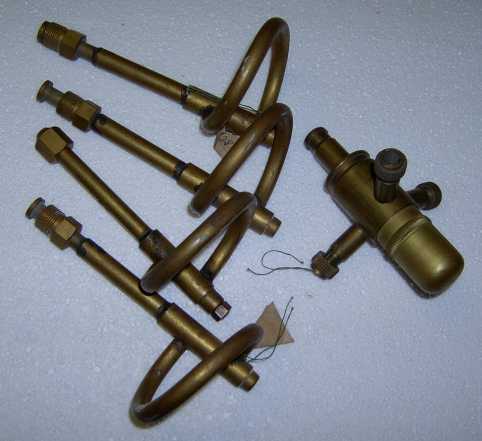 As we were talking about the Finnish made Homelux lantern, we also wanted to put out a picture of some spareparts made for different lanterns here in Finland. These parts are made at "Petro-Valo" and for instance the Tilley burner we have now fitted on to a Tilley KL 80.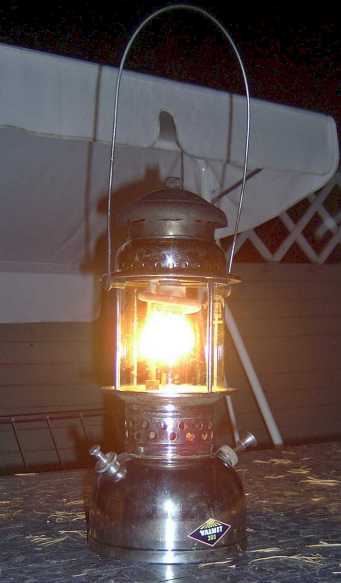 .
Yet another Finnish brand, Valmet 300. This lantern is a heavy brass construction, it weights 2,250 kg as empty. It started up nicely, but the original glass globe have probably had a hole for putting in pre-heater spirit trough, as it was difficult to put that in from underneath. We bought it in august 2006.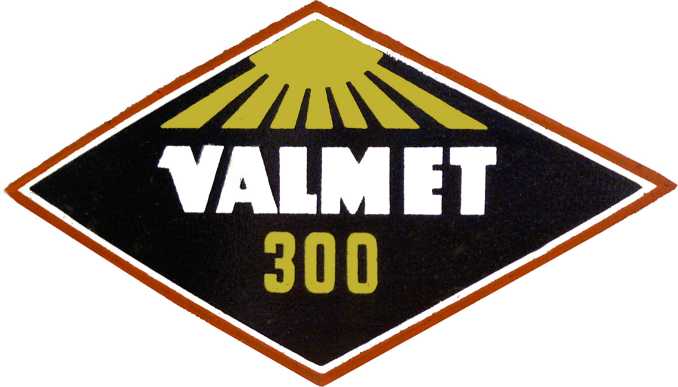 This is what the Valmet 300 logo looks like...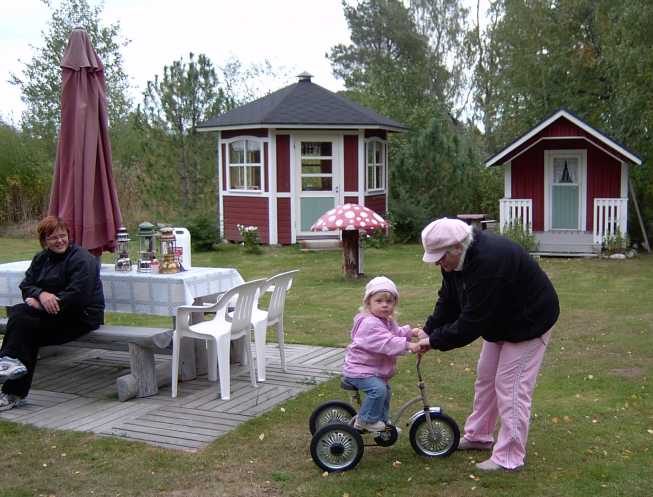 One evening in September 2006, we had a small party were we used some lanterns also. On the table is some of the lanterns we lit up later when it was dark. From right Tiina, Mi and Leila.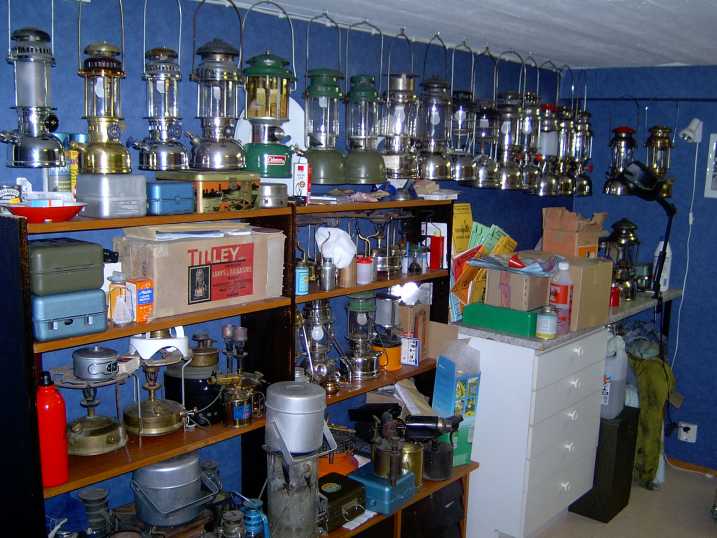 Here are some of the items in our collection. The picture is not up to date, but we haven't found that many items lately so it doesn't matter. Here we also fix some of the lanterns, but we always test them the first time on the outside.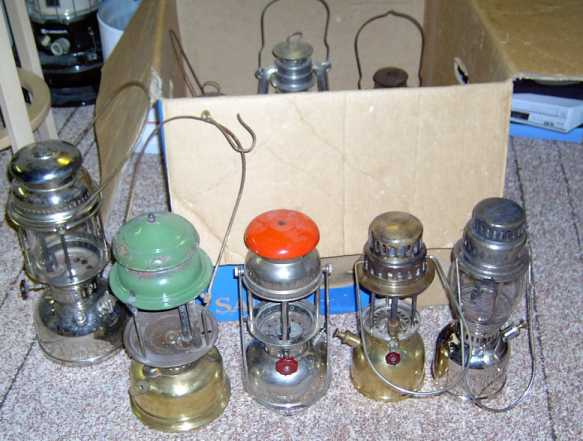 In August 2005 we managed to find a box with 5 pressure lanterns for a reasonably cheap price. From left to right Optimus 300, Primus 1020, Optimus 200 with red top, Optimus 900 brass and Radius 108. The Primus 1020 we used to take parts from, the otherones it was possible to use as they were, only new washers and glassglobes and mantles and fire them up..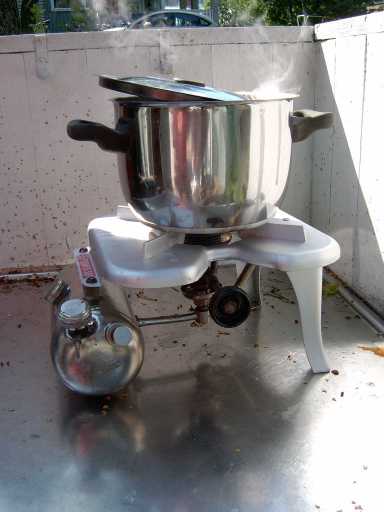 Here we are boiling potatoes on the Primus 503 stove. This one is really a hot stove, and great for using outside the gazeboo even if I could use one with two burners ;)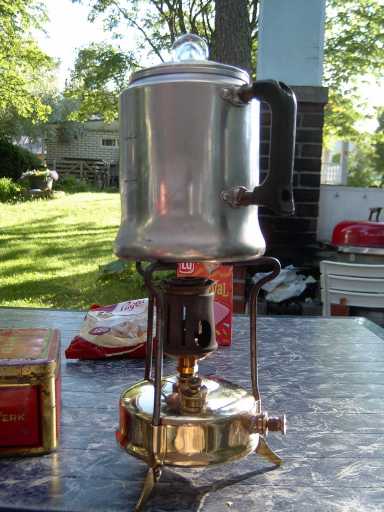 And here we are making coffee on the Høvik 41 stove in our favourite perculator, a Dixie made in U.S.A. I like this perculator as it is very light and made of thin aluminium, so it is great to take in the backpack.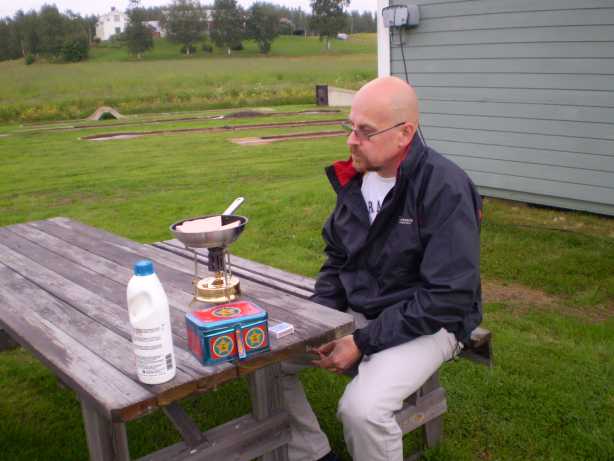 In July 2008 Tiina and I went on a quick trip to northern Sweden. We had planned to stay in tent, but it rained all the time and we rented a cabin instead. But we had the Radius 21 stove and an Optimus 200 with us, just in case, and we prepeared our meals on the stove. Here we are frying some sausages on the stove.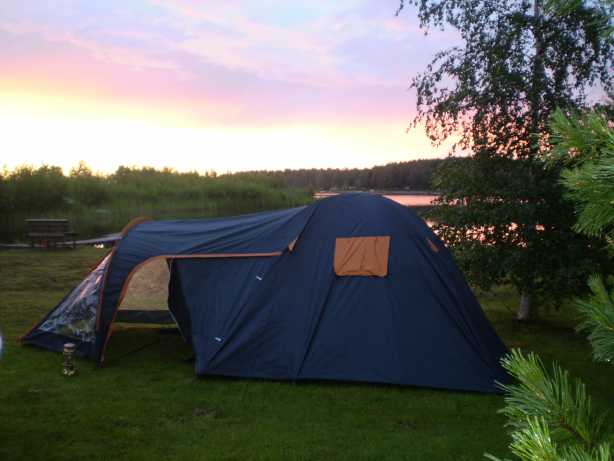 When we returned home it had stopped raining and we put up our tent at the summerhouse and spent the night there instead. Even if the temperature outside wasn't more than 11° celsius, we had a good nights sleep in the tent.