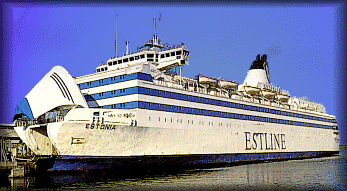 About 1.5 milj. visitors 1996 - 2010.
You are visitor


since 17.12.2010

---
These sites are dedicated to the memory of the victims of the ferry disaster, their relatives and friends, those involved in the rescue operation, and all seafarers and their families around the world.
No economical compensation has been claimed or given to anyone participating in any part of this publication. I am not sure about the origin of some of the photos. I would be glad to add the names of the photographers in the "special thanks to"-list (with same terms as others) if and when they contact me.
I have gathered information connected to the accident since it took place in 1994. The sites may contain information that may convulse people connected to the disaster - that however is not my intention and I sincerely apologize if that happens.
My intentions are purely ideological and I am not trying to find a scapegoat (that is too late), just objectively clarify some facts.
I have sailed on seven Finnish and one German vessel during 1972 - 1986, in later years intermittently as deck-repairer ("shippie") with duty to close, open and monitor the condition of bow visors among others. Some of the ships had fairly the same type of bow construction as m/s Estonia, so I think I know at least a little bit what I am talking about. I have also visited Estonia a few times earlier and sailed with many seafarers who have worked on the ship. Today I work as a port supervisor in the port of Pietarsaari, and I am also a part time observer at the Finnish Institute of Marine Research mareograph station in Pietarsaari, Finland.

---
About the following pages:
The site is optimized for 600 x 800 screen, 256 colors or more, 33.6 KBPS modem, 16 bit soundcard and avi-player. Please use MS Explorer 4, Netscape Navigator 4 or newer.
Some of the sites contain GIF-animations. The loading of the animations and sounds can take a while the first time (so be patient and take time to read the text on the page while waiting).
The sites are all properly tested before release so your browser configurations are probably wrong or your connection too slow if you can't make it work. Send me an e-mail and tell me about it. Good luck!


Special Thanks To:
Kari Lehtola (The Accident Investigation Center)
Pirjo Valkama (The Accident Investigation Center)
The Finnish Board of Navigation, department of Information and society relations
Markus Holmström (Jacob Tours)
Dada Gefwert (Web Print)
Jaakko Panelius
---
Text, animations and design by S-G.Berglund © 1994, 1995, 1996, 1997, 1998, 1999, 2000, 2001, 2002, 2003, 2004, 2005, 2006, 2007, 2008, 2009, 2010 (and still working)
Estonia ms Estonia Estonia ms Estonia Estonia ms Estonia Estonia ms Estonia Estonia ms Estonia Estonia ms Estonia Estonia ms Estonia Estonia ms Estonia Estonia ms Estonia Estonia ms Estonia Estonia ms Estonia Estonia ms Estonia Estonia ms Estonia Estonia ms Estonia Estonia ms Estonia Estonia ms Estonia Estonia ms Estonia Estonia ms Estonia Estonia ms Estonia Estonia ms Estonia Estonia ms Estonia Estonia ms Estonia Estonia ms Estonia Estonia ms Estonia Estonia ms Estonia Estonia ms Estonia Estonia ms Estonia Estonia ms Estonia Estonia ms Estonia Estonia ms Estonia Estonia ms Estonia Estonia ms Estonia Estonia ms Estonia Estonia ms Estonia Estonia ms Estonia Estonia ms Estonia Estonia ms Estonia Estonia ms Estonia Estonia ms Estonia Estonia ms Estonia Estonia ms Estonia Estonia ms Estonia Estonia ms Estonia Estonia ms Estonia Estonia ms Estonia Estonia ms Estonia Estonia ms Estonia Estonia ms Estonia Estonia ms Estonia Estonia ms Estonia Estonia ms Estonia Estonia ms Estonia Estonia ms Estonia Estonia ms Estonia Estonia ms Estonia Estonia ms Estonia Estonia ms Estonia Estonia ms Estonia Estonia ms Estonia Estonia ms Estonia Estonia ms Estonia Estonia ms Estonia Estonia ms Estonia Estonia ms Estonia Estonia ms Estonia Estonia ms Estonia Estonia ms Estonia Estonia ms Estonia Estonia ms Estonia Estonia ms Estonia Estonia ms Estonia Estonia ms Estonia Estonia ms Estonia Estonia ms Estonia Estonia ms Estonia Estonia ms Estonia Estonia ms Estonia Estonia ms Estonia Estonia ms Estonia Estonia ms Estonia Estonia ms Estonia Estonia ms Estonia Estonia ms Estonia Estonia ms Estonia Estonia ms Estonia Estonia ms Estonia Estonia ms Estonia Estonia ms Estonia Estonia ms Estonia Estonia ms Estonia Estonia ms Estonia Estonia ms Estonia Estonia ms Estonia Estonia ms Estonia Estonia ms Estonia Estonia ms Estonia Estonia ms Estonia Estonia ms Estonia Estonia ms Estonia Estonia ms Estonia Estonia ms Estonia Estonia ms Estonia Estonia ms Estonia Estonia ms Estonia Estonia ms Estonia Estonia ms Estonia Estonia ms Estonia Estonia ms Estonia Estonia ms Estonia Estonia ms Estonia Estonia ms Estonia Estonia ms Estonia Estonia ms Estonia Estonia ms Estonia Estonia ms Estonia Estonia ms Estonia Estonia ms Estonia Estonia ms Estonia Estonia ms Estonia Estonia ms Estonia Estonia ms Estonia Estonia ms Estonia Estonia ms Estonia Estonia ms Estonia Estonia ms Estonia Estonia ms Estonia Estonia ms Estonia Estonia ms Estonia Estonia ms Estonia Estonia ms Estonia Estonia ms Estoninia Estonia ms Estonia Estonia ms Estonia