The Art of War
WAR AND MILITARY CAMPAIGNS have always been big affairs; masses of people are moving, dying; political systems are broken or created, states vanish or grow. The war of 1808-09 was no different. It stamped its mark in the people; in culture and art. This page is all about the small man in the ranks, the woman back home; this page is also about the mark a war can put in literature and arts, and in the minds of the population.



The soldier's life
Today we may have a hard time imagining the life of the soldier in the ranks of Napoleonic era armies. However when we study uniforms, tactics, what they ate, how medical care was arranged and everyday issues like that, we can slowly build quite a good picture.

Uniforms of the Swedish army. Uniformology is very popular out there and now The Final War is proud to present a very unique collection of uniform plates of the Swedish-Finnish army. Here is a collection of Swedish army uniforms from the period before the war, as well as during it. This is all a real treat, because the uniform plates have been made by my friend Paul Morillon who is an excellent artist.

Additional notes on Uniforms. The war of 1808-09 may be uniformology-hell, depending on the many reforms that were made during Gustav IV's reign. Let us here try to simplify things a bit..

Life in the Line of Fire. This article deals with the life of the Swedish soldier; his recruitment, civilian life and life in the ranks. We will also touch upon Swedish military tactics during the war and mention the high command as well as the officers that led the men.



---

Translated excerpts from Fänrik Stål's sägner
Fänrik Stål's sägner is the patriotic book of poems written by J.L. Runeberg in the 1840's. The poems and stories have had a great impact on how we in Sweden and Finland look at the war and the poems remain popular and are often cited by historians. So great is the renown of this book, that the first words of it have become the text for the National Anthem of Finland (sve. Vårt land, fin. Maamme - Our Land). Therefore I think it is only fair to give the English-speaking world a little taster of the flavour in the book. The translations are made by Göran Frilund.

The brave Lieutenant Zidén
Kulnev
The death of the hero Duncker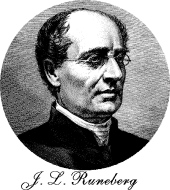 Back home
© Göran Frilund 2000-03, All Rights Reserved.
If you've surfed onto this page from outside and there is no menu on the left,
CLICK HERE for the full Website.