General Nikolai Nicholaievitj Rayevskij (1771-1826)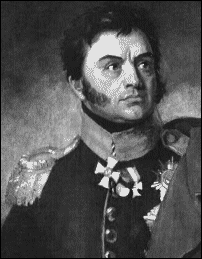 Beginning his military career at the age of twenty, Rayevksij quickly advanced in ranks and took part in the wars in Poland as well as against Persia and advanced to Colonel. He then took part in the wars against Napoleon in 1805-07, finally, by 1807, commanding his own brigade.

During the Russo-Swedish war of 1808, he initially pursued the retreating Swedish under Klingspor along the coast with a unit from the 21. division. By May, Rayevskij found himself in command of an independent unit of 6.800 troops in Österbotten and then took part in the actions during the Swedish counteroffensive. Luck was not with Rayevksij though. By June he found himself retreating further and further back south. On July 14, he fought Adlercreutz at the battle of Lappo, there deciding to retreat before being outflanked and surrounded. Rayevskij was then replaced by general Kamenskij as commander of the main army.

After his failure in this campaign, Rayevskij took part in defending Mother Russia from the invading French in 1812. This time he served with shining grades. During the attack at Saltanovka on July 23, Rayevksij walked forward at the head of the Smolensk Regiment, holding his son by the hand! The sight of these two warriors, spurred the tired Russian warriors on. The French, commanded by marshal Davout, pressed on though and forced Rayevskij to withdraw from the battlefield. He may have suffered a tactical defeat, but Rayevskij inflicted about twice as much casualties to the French at Saltanovka as he himself lost.

Rayevskij was present with his 7th Infantry Corps at Smolensk, where the French finally forced their advance over the Dniepr River. At Borodino on September 7, the 7th Corps defended the Great Redoubt that came to have Rayevskij's name in history - The Rayevskij Redoubt. This part of the battlefield saw some of the bloodiest fighting, and when the day came to a close, the French had finally taken possession of the redoubt. Not without paying a high price though. Rayevskij also took part in the pursuit of the French armies after the retreat from Moscow.

In 1813-14 he again fought in the Russian armies, in the Wars of Liberation against Napoleon. At Leipzig he commanded a division under Bagration. After the Napoleonic defeat he held different military posts, he commanded the Second Army's 4th Corps among other things. By 1826 he became a member of the State Council. He died in 1826.

Rayevskij may not have been in luck during the war of 1808-09, but he sure proved to be a valuable commander during the Great Patriotic War of 1812 and after. His name still rings loud in the Napoleonic historybooks, because of his actions at the Rayevskij Redoubt.





Back to Biographies
© Göran Frilund 2000-03, All Rights Reserved.
If you've surfed onto this page from outside and there is no menu on the left,
CLICK HERE for the full Website.